Having found a data resource that is of interest, you can download a copy.
If a dataset in catalogue is available to order, an "Download the data" link will be present in the detailed view for that record.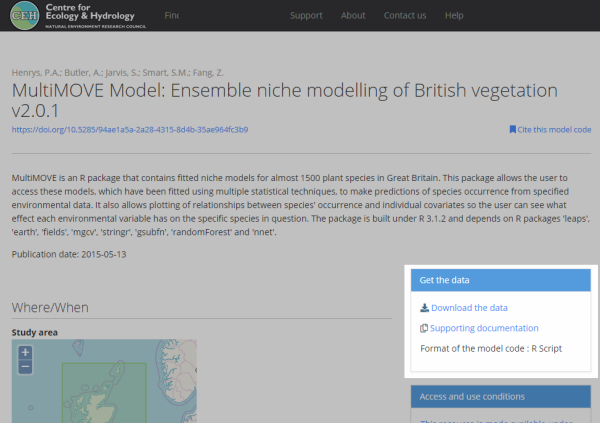 Clicking the link will start a wizard, which will take you through the steps required to obtain the data.
  You must be logged in to order data. If you are not already logged in, you will be prompted to do so
The relevant Terms & Conditions of use of the data will be shown and you will be asked to confirm your acceptance.
Depending on the dataset, you may be prompted to make a number of choices in order to customise the download to your requirements. For example, in the case of a spatial dataset, this might include clipping out an area from a map, deciding which coordinate reference system to use, and selecting your preferred file format.
You will be asked to review and confirm all your choices.
If you proceed, your data will be prepared and after a short while* you will receive an email which contains a download link.
To download your data simply click on the link in the email.
* The time taken to prepare your data and send you an email depends on the size of the dataset and its complexity. In the vast majority of cases, you will receive the email within 5-10 minutes. Some complex datasets take several hours. If you have not received download instructions within 24 hours, you should email eidc@ceh.ac.uk, quoting your order number.